DECEMBER 2019 
ISSUE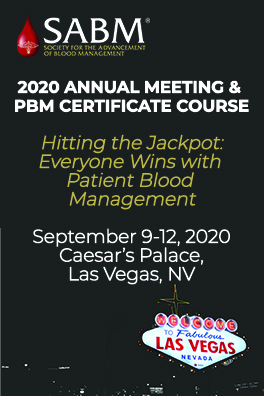 ---

Please consider making a donation to your Society. Your donations will help us to improve the lives of people throughout the world through Patient Blood Management.
---
SABM 2019 Newsletter Publication 
Editor: Kevin T. Wright
Associate Editor: Majed Refaai, MD
Christine Cahill, MS, BSN, RN
Mary Ann O'Brien, RN, MSN, CCRN, CNE

Contributors for This Issue
Eloa Adams, MD
Leon Binette, RN
Carolyn Burns, MD
Tiffany Hall, RN
Queeneth Kalu, MD
Sherri Ozawa, RN
Prakash Patel, MD
Becky Rock, RN
Stephanie Smith, RN
Nathaniel Usoro, MD
Sarah Walbolt, BSN, RN 
Marketing
Carmen Melseth
---
© 2019 Society for the Advancement of Blood Management
350 Engle Street
Englewood, NJ 07631 USA
Phone:
 (928) 551-6400
Fax:
 (877) 944-2272
EMAIL:
[email protected]
WINTER 2019 WELCOME LETTER
Warm greetings to all and it is our pleasure to provide the Winter Newsletter. As the incoming editor, I want to express deep appreciation to Carolyn Burns, MD, and Tiffany Hall, RN, who both worked tirelessly over the years on newsletter content, yes, we all thank you! We now of course welcome Majed A. Refaai, MD, as associate editor, along with Christine Cahill, MS, BSN, RN, and Mary Ann O'Brien, RN, MSN, CCRN, CNE, to the newsletter team.
As we enter the final weeks of the year, we hope that you will enjoy selected highlights from the September 2019 Annual Meeting which was held in Baltimore, Maryland. The focus of this newsletter is the SABM meeting and you will no doubt find helpful reviews, useful topics and important updates. Additionally, please take note of the awards section and announcements as these emphasize the achievements of our members as well as upcoming publications, outstanding research, and educational opportunities. We encourage you to utilize the information and tools provided to grow and stimulate your programs. The Newsletter Team sends a resounding "thank you" to our membership, affiliates, exhibitors, sponsors, and hosts in Baltimore, which contributed to the success of the Annual Meeting. 
We do want to recognize our outgoing Management Team, both Richard and Carmen Melseth from Ardent Consulting for all of the behind the scenes administrative and various other essential duties that contributed to the success of SABM during their tenure—thank you very much! Their efforts have made it a seamless transition to the incoming Talley Management Group, to whom we now welcome aboard. 
Last month, November 4-8, marked the 13th Annual SABM Patient Blood Management Awareness Week. This special week provided a unique opportunity to focus on PBM and improving patient outcomes; please let us know of any outstanding accomplishments. For now, be sure to mark your calendars for the 19th Annual SABM Meeting on September 10-12, 2020 at Caesar's Palace in Las Vegas, Nevada.
In closing as Dr. Burns has said, the Newsletter is here on behalf of the membership and will continue to reflect your initiatives and needs. 
Sincerely,
Kevin T. Wright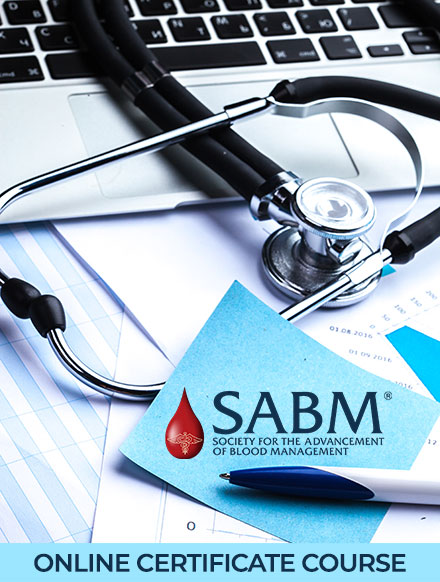 ---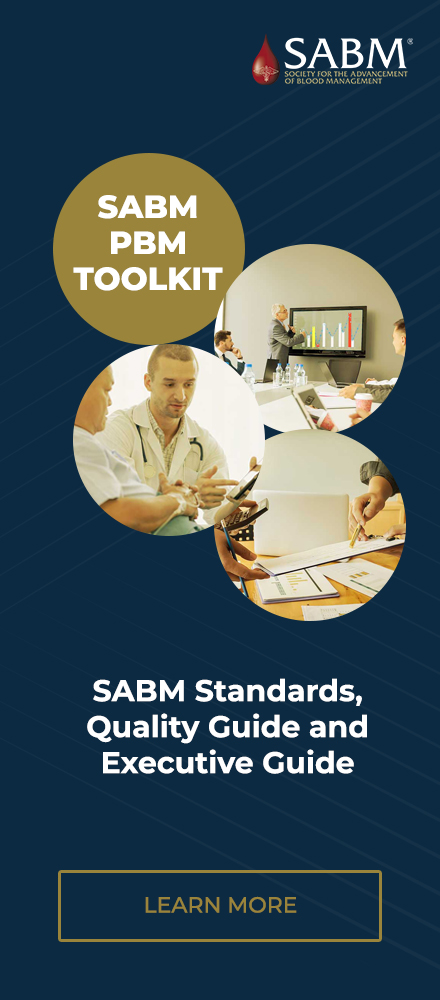 ---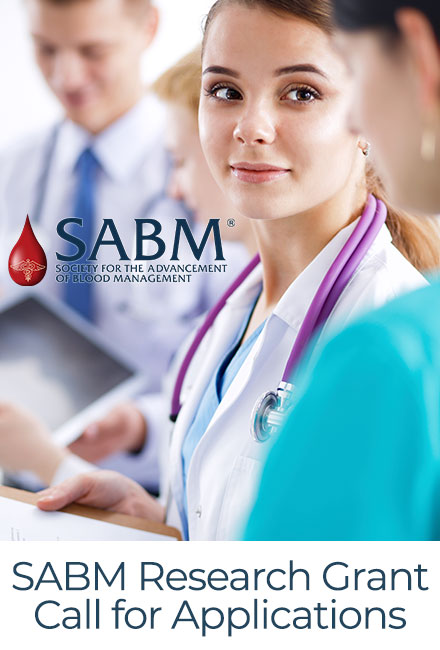 ---

Consider submitting your future manuscripts in PBM for peer review and publication in this new section. The success of this endeavor will depend on the provision of material to make it lively and attractive to our colleagues and other professionals in the field.

Members Invited to Submit Papers CLICK HERE