FALL 2017
ISSUE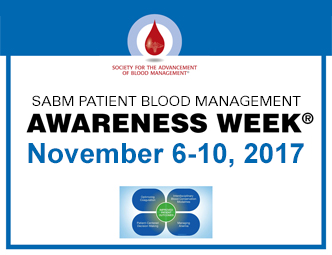 The Society for the Advancement of Blood Management (SABM)
invites healthcare organizations worldwide to participate in this week dedicated to educating patients and healthcare professionals about patient blood management.
---
Please consider making a donation to your Society. Your donations will help us to improve the lives of people throughout the world through Patient Blood Management.
SABM 2017 Newsletter Publication Schedule
February | May | August | November
Editor
Carolyn Burns, MD
Associate Editor
Tiffany Hall, RN
Contributors

Sherri Ozawa, MD
Carolyn Burns, MD
Pierre Tibi, MD
Tiffany Hall, RN
Becky Rock, RN
Kevin Wright


Executive Director
Richard Melseth
Marketing Director
Dale Black
Membership Services
Carmen Melseth
Welcome to the SABM Fall Newsletter!
With this Fall 2017 Edition of the Society for the Advancement of Blood Management (SABM) Newsletter, you will find it focused, as anticipated, on news, views, events, and updates from the September 2017 Annual Meeting, which was held in Portland, Oregon.
If you were able to attend, the Newsletter Team hopes you can review many of the notable presentations or merely scan the many pictures to remind you of the professional networking and friendships we have within this Society.
If you were unable to join us in Portland, we hope you can find the Newsletter helpful for highlighting the most important topics, upcoming publications, outstanding research, and educational opportunities that continue to be available to all SABM members and hospital affiliates.
The Newsletter Team also wishes to say "thank you" to our membership, affiliates, exhibitors, sponsors, and our hosts in Portland, which contributed to the success of the Annual Meeting.
Enjoy the next few pages and please mark your calendars for the 2018 Annual Meeting, which will take place in New York, September 13 – 15, 2018.

Best,
Dr. Carolyn Burns
PBM for Patient Blood Management Section
View the NEW Fourth Edition Clinical Standards for PBM

Check out the NEW

Second Edition Quality Guide to Administrative and Clinical Standards
Save the Date for SABM's Annual Meeting
September 13 - 15, 2018
New York Marriott at the Brooklyn Bridge
New York, New York



Consider submitting your future manuscripts in PBM for peer review and publication in this new section. The success of this endeavor will depend on the provision of material to make it lively and attractive to our colleagues and other professionals in the field.
Members Invited to Submit Papers CLICK HERE
---
Join SABM's Call to Action for Medicare to Expand Coverage for Treatment of Anemia!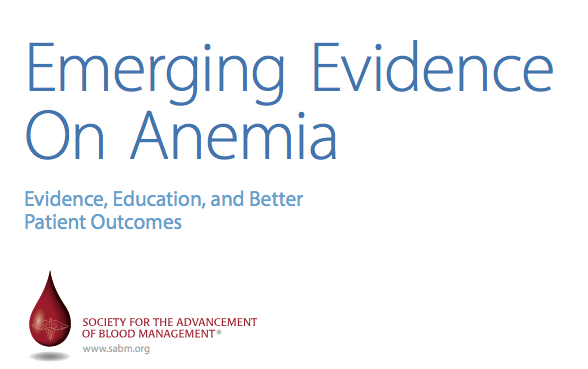 Click
HERE
for detailed information about what you can do to get involved.
---
© 2017 Society for the Advancement of Blood Management
350 Engle Street
Englewood, NJ 07631 USA
Phone:
(928) 551-6400
Fax:
(877) 944-2272
EMAIL:
[email protected]